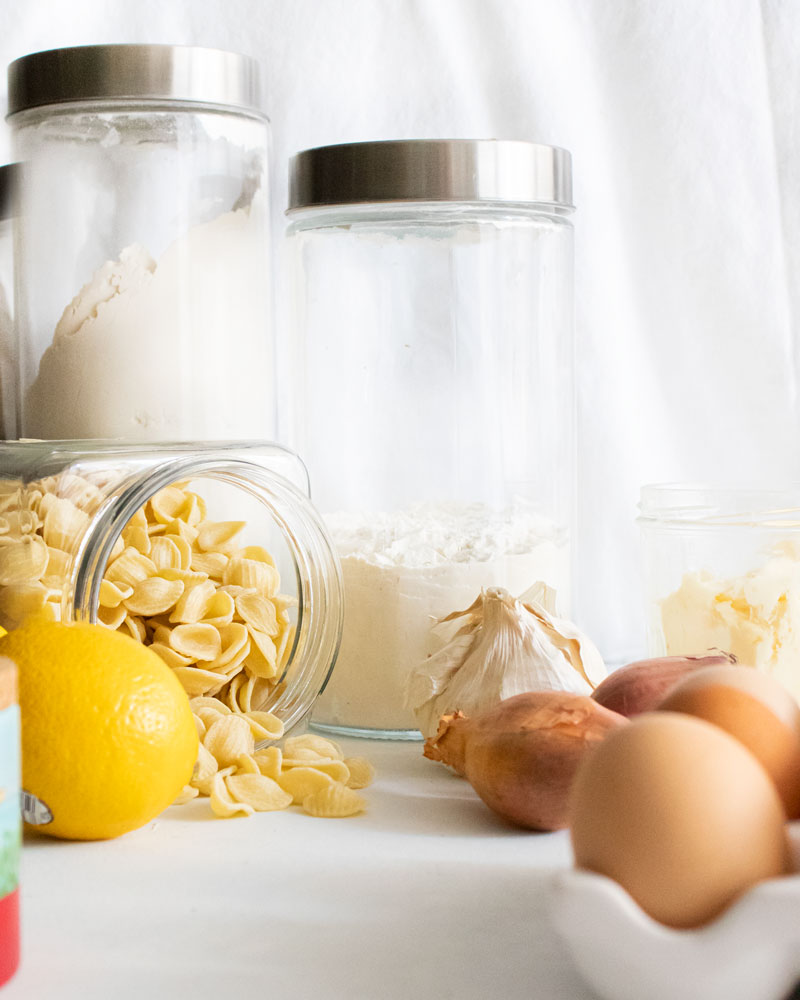 Let's talk ingredients, shall we? Having a collection of versatile, high quality ingredients on hand is extremely important for the home cook. Not to mention, stocking simple ingredients will save you both time and money in the long run– you'll no longer have an excuse to order pizza because you'll have everything you need to whip up a delicious meal in no time. So, lets break down what you should be keeping in your kitchen at all times!
TL;DR (too long; didn't read)
The Bare Minimum
Olive Oil
Salt and Pepper
Spice Mix
Flour
Sugar
Baking Powder, Baking Soda, & Active Dry Yeast
Rice
Dried Pasta
Onion
Garlic
Lemon
Eggs
Milk
Butter
What I Recommend In Addition
Parmigiano Reggiano
Dijon Mustard
Potatoes
Bread Crumbs
Chocolate Chips
Hot Sauce
Asian Sauces
Assortment of Meats in the Freezer
Homemade Chicken Stock
The Bare Minimum– Explained
Olive Oil: My "everyday" olive oil is more subtle and less expensive. It's perfect for sauteing or roasting. Ex: Filippo Berio Extra Virgin Olive Oil. On the other hand, my "finishing" olive oil is robust, fruity, and has a more distinct olive flavor. I use this for topping soups, dipping bread, and in my homemade salad dressings. Example: Olio Santo.
Salt: I use Kosher Salt for both cooking and baking. It enhances the flavor of food without the harsh saltiness of table salt. Ex: Morton Kosher Salt. It is also a good idea to keep a finishing salt; something more subtle that you would sprinkle on top to complete a dish. My preference is Fleur de sel which is French Sea Salt. Ex: Le Saunier De Camargue Fleur De Sel.
Pepper: I use a pepper mill with black peppercorns. I never, I repeat… never use pre-cracked black pepper. It is not the same!
Spice Blend: I have a spice blend given to me by my wonderful sister-in-law called Herbs of Everything. It's a combination of rosemary, thyme, garlic, poppy seeds, etc. If you're looking for a good grocery store spice blend, I like both Italian Seasoning & Mrs. Dash Salt Free Garlic and Onion. Spice Blends are a great way to pack a lot of flavor into a dish without having to keep up with a giant spice cabinet!
Flour: I keep three types of flour on hand. All-purpose flour is the best well… all-purpose flour! You can use it to make cakes, brownies, breads, etc. If you only have one flour, make sure to have this one! I use bleached all-purpose flour because it sends to have a softer texture than unbleached. Bread flour: I have recently become obsessed with making my own sourdough bread! Bread flour creates a lighter, fluffier bread and I like the texture much better. I also use bread flour for things like cinnamon rolls, bagels, and soft pretzels! King Arthur Flour is my favorite brand of bread flour. Almond flour: I keep almond flour around for two main reasons: first, because I make french macarons often. Secondly, because I have a few friends who adhere to a gluten free diet and I like to be able to accommodate them when they come over! Bob's Red Mill is my favorite brand of almond flour.
Sugar: I keep four types of sugar on hand. White sugar (aka: Granulated sugar): this is the most versatile sugar! Almost every baked good recipe will call for some amount of white sugar. Powdered sugar (aka: confectioners sugar): this is used to make icings (and french macarons) so if you're a baker, this is an important one to have on hand. Light & Dark Brown Sugar: I keep both light and dark brown sugar but they are essentially different versions of the same thing. All brown sugar is simply white sugar with molasses added and naturally, dark brown sugar has more molasses added than light brown sugar.
Baking Powder, Baking Soda, & Active Dry Yeast: These are all important leavening agents! You'll need different combions for different baked goods and they are not interchangeable so you'll need all three! Baking Powder is activated by water. Baking Soda is activated by acids: buttermilk, sour cream, vinegar, citrus. Yeast is a living thing that needs warmth, water, and food (sugar) to grow.
Rice: Rice is such an easy carb to have around and it's very shelf stable. I keep three types of rice on hand: standard white basmati rice, arborio (which makes risotto) and sushi rice.
Dried Pasta: I like to have my two favorite dried pastas on hand at any time: Orecchiette and Bucatini. I use Orecchiette to make things like mac & cheese while I use Bucatini in spaghetti and caco e pepe!
Onion: My favorite are vidalia onions; they're sweeter and milder than yellow onions– and they don't make me cry when I cut into them.
Garlic: There's pretty much only one variety of garlic that I find in the grocery store.
Lemon: Citrus is a great way to brighten up a heavy dish! So many recipes (both savory and sweet) benefit from a touch of lemon.
Eggs: Eggs are arguably the most versatile ingredient in the kitchen. They are used in almost every baked good– both sweet and savory! Anything from souflee to bearnaise to royal icing requires eggs! Almost every recipe is based off Large eggs!
Milk: Personally, I drink almond milk in my coffee and cereal so we always have that on hand– and while almond milk can be a substitute for cow's milk in baked goods, I have not had the same luck in cooking. So, for that reason, I keep whole cow's milk on hand as well– mac & cheese just isn't the same without it.
What I Recommend in Addition — Explained
Parmigiano Reggiano: This is true, authentic parmesan cheese. I keep blocks of it in the fridge and grate only as much as the recipe calls for. This ensures the cheese stays fresh and full of flavor! This is definitely an ingredient to splurge on– it's worth it!
Mustard: I like having both Whole Grain and Dijon Mustard on hand. They're great bases for salad dressings and marinades! My favorite brand is Maille.
Potatoes: Potatoes are another easy carb that is always great to have on hand. You can bake them, fry them, saute them, etc. The possibilities are endless. And if they start to go bad, just make some gnocchi! Russet and Yukon Gold are two of my favorites!
Bread Crumbs: I keep both seasoned italian and panko breadcrumbs but if I had to pick one, it would definitely be Panko! Panko breadcrumbs are Japanese bread flakes that are larger and crispier than traditional breadcrumbs. If you want to make fried chicken, mac and cheese, or potstickers, you're going to need breadcrumbs!
Chocolate Chips: Don't judge me. I keep six kinds of chocolate chips in my baking drawer… and yes, I need all of them! They are: milk, dark, semi-sweet, bitter-sweet, mini, and white. I also keep semi-sweet baking bars because they melt better.
Hot Sauce: Franks Red Hot: the only sauce you can use for chicken wings. Sriracha: The quintessential asian hot sauce. Tabasco: My go-to for spice in any Tex-Mex cuisine.
Asian Sauces: Asian cuisine is one my favorites so I keep well stocked! Soy, Teriyaki, Ponzu, Mirin, Rice Wine Vinegar, and Sesame Oil are all important sauces! You'll be able to make everything from Eel sauce (for sushi) to sesame chicken to potstickers with this collection of sauces.
Assortment of Meats in the Freezer: Of course your selection of meats is based entirely on personal preference. I monitor the grocery store sales and whenever something versatile goes on sale, I stock up. For example: bone-in pork chops, chicken breasts, NY Strip steak, ground beef, etc. The only thing I refuse to stock in the freezer is seafood. I buy my seafood from a reputable fishmonger the day I'm going to cook it. If your seafood smells like rotting fish… don't buy it! It should smell fresh and briney (aka, like salt) not like fish!
Homemade Chicken Stock: I make homemade chicken stock in large batches whenever I have leftover vegetables I need to use up. Then I keep it in the freezer and just pull out a quart whenever I need it! Homemade chicken stock is so much more flavorful than store-bought and you can control the amount of salt!