Jump to Recipe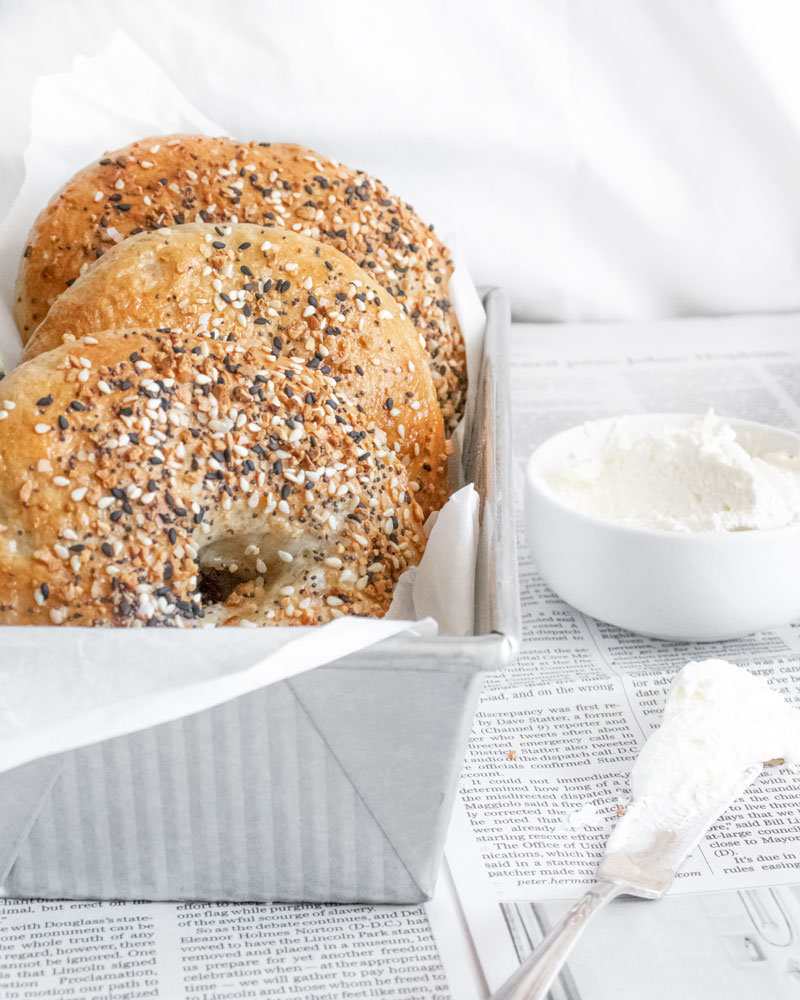 If you're looking for the perfect bagel recipe– here it is! These bagels are crisp on the outside and soft and fluffy on the inside. They have just the right amount of chew and can be customized to any flavor you like! I will admit, I have a weakness for delicious bagels… and if I didn't have a husband I could probably eat this entire batch by myself. But thankfully he's here to enjoy these amazing bagels with me (even if that means I have to share)!
Frequently Asked Questions
Q: My yeast didn't get foamy on top. What happened?
A: In short, your yeast didn't activate properly. You'll need to throw it out and start over. Double check that your yeast isn't expired and your water is the right temperature!
Q: Can I make bagels in advance?
A: Absolutely! Instead of letting them rise at room temperature, let them rise overnight in the fridge. In the morning, let them come to room temperature (takes about 30 minutes) and then knead and shape them the same way!
Q: Why do you boil the bagels before you bake them?
A: Boiling the bagels in the water and honey mixture helps achieve that crisp and chewy exterior that really makes a bagel, well… a bagel!
Q: What are your favorite bagel flavors?
A: Cheddar and Everything are my favorites! Salt and Sesame Seed are Samuel's favorites!
How to Make Homemade Bagels
Let's talk ingredients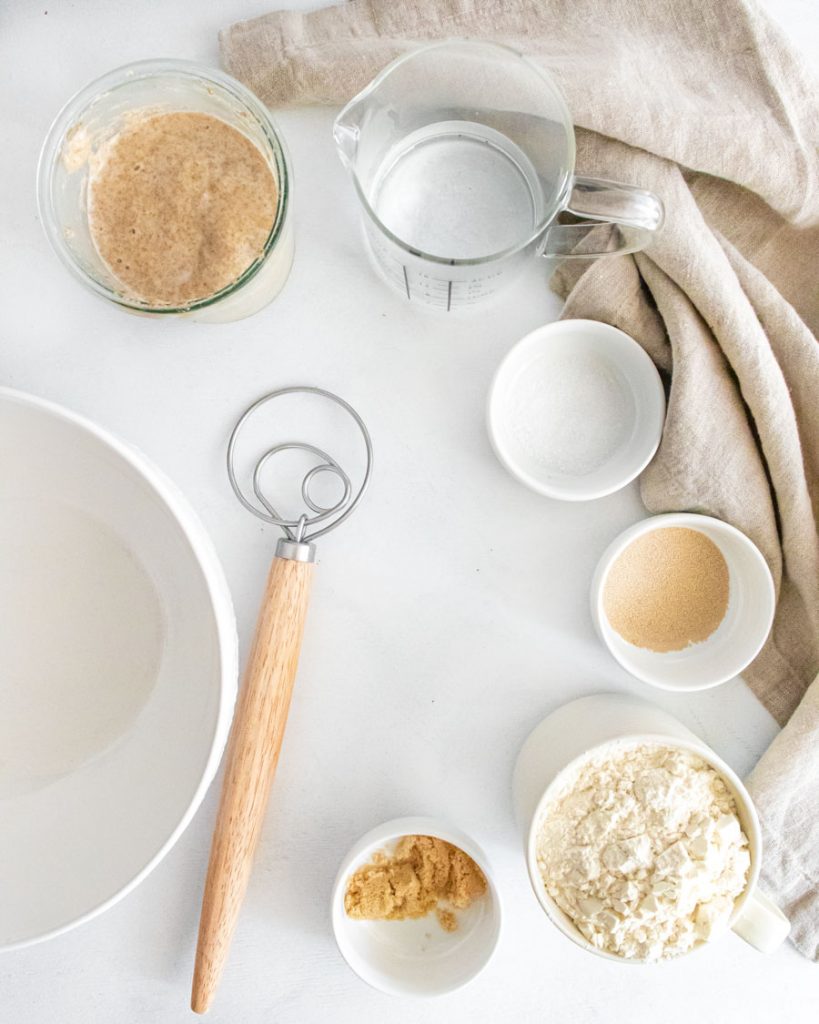 For this recipe, I'm using Bread flour, active dry yeast, kosher salt, light brown sugar, standard tap water, and 100% hydration whole-wheat sourdough discard.
Step one: Activate the yeast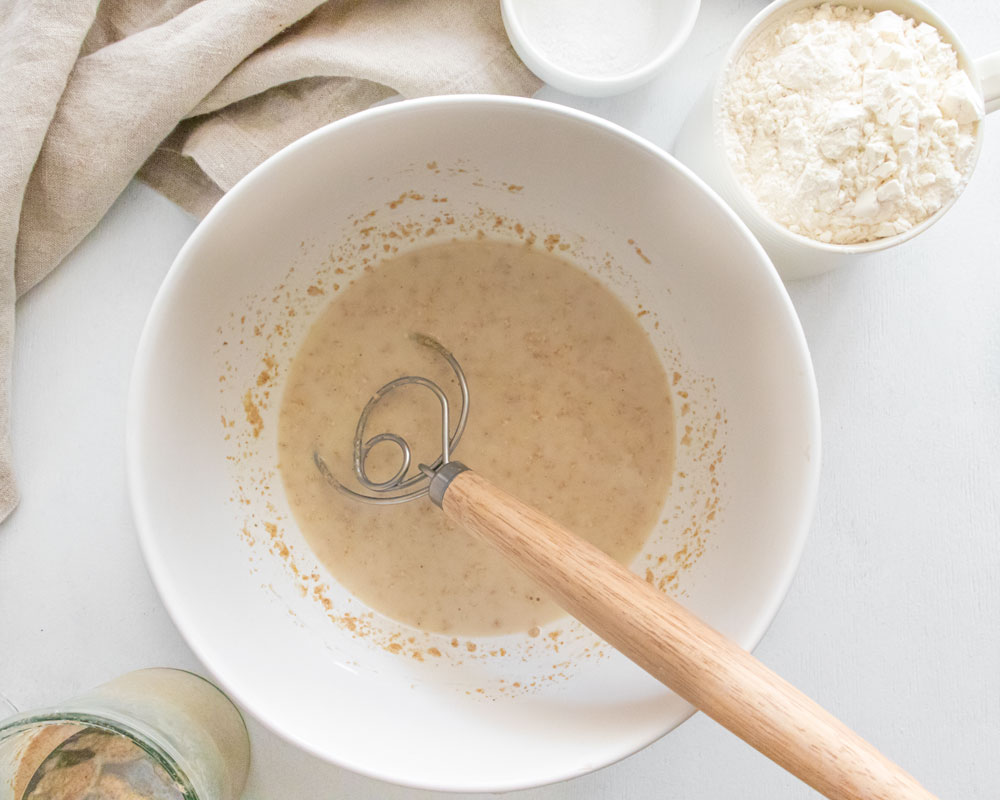 Combine the water, yeast, brown sugar, and sourdough discard (if using). If you're using active dry yeast, let it sit for five minutes before continuing. If you're using fast acting yeast, continue right away.
Step two: add the dry ingredients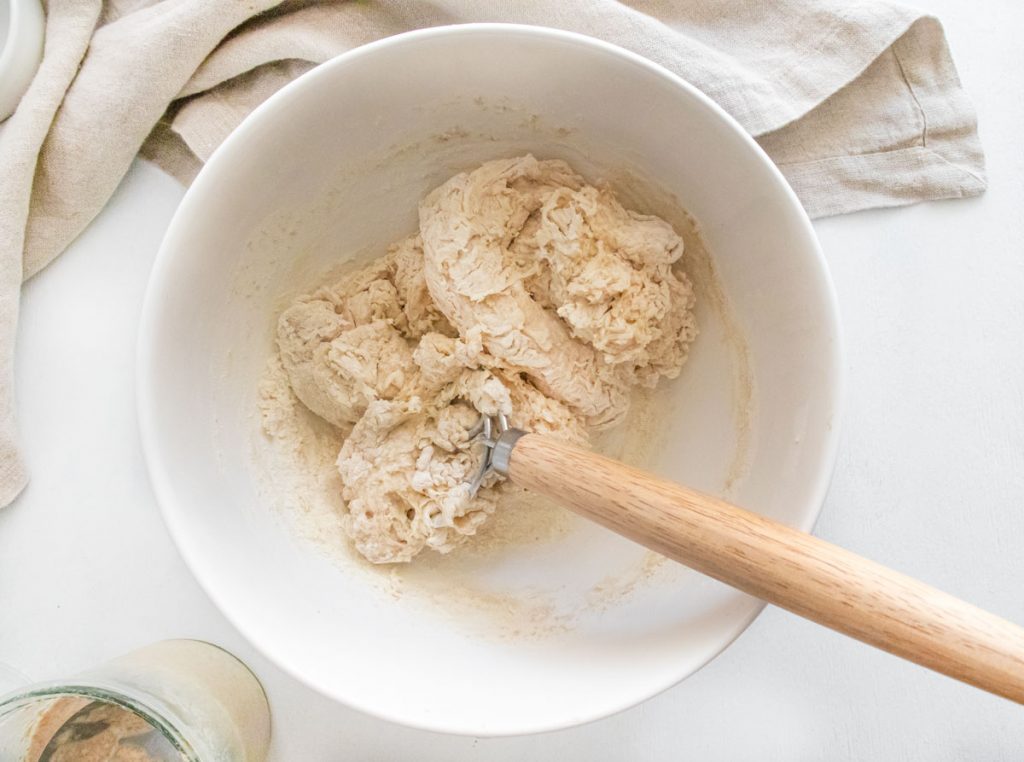 Add the bread flour and salt. Stir until a shaggy dough forms.
step three: Knead and rest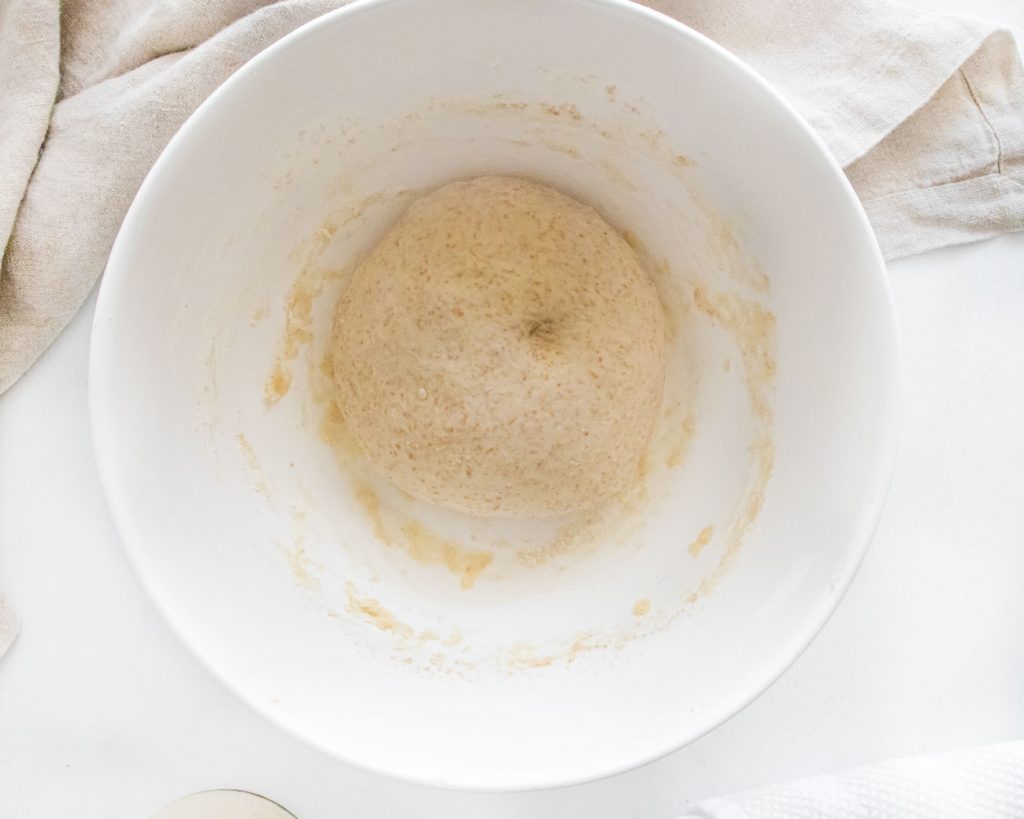 Turn the dough out onto a lightly floured surface and head gently until the dough is soft and smooth. Feel free to add a light dusting of flour to the work surface if the dough starts to stick.
step five: Rise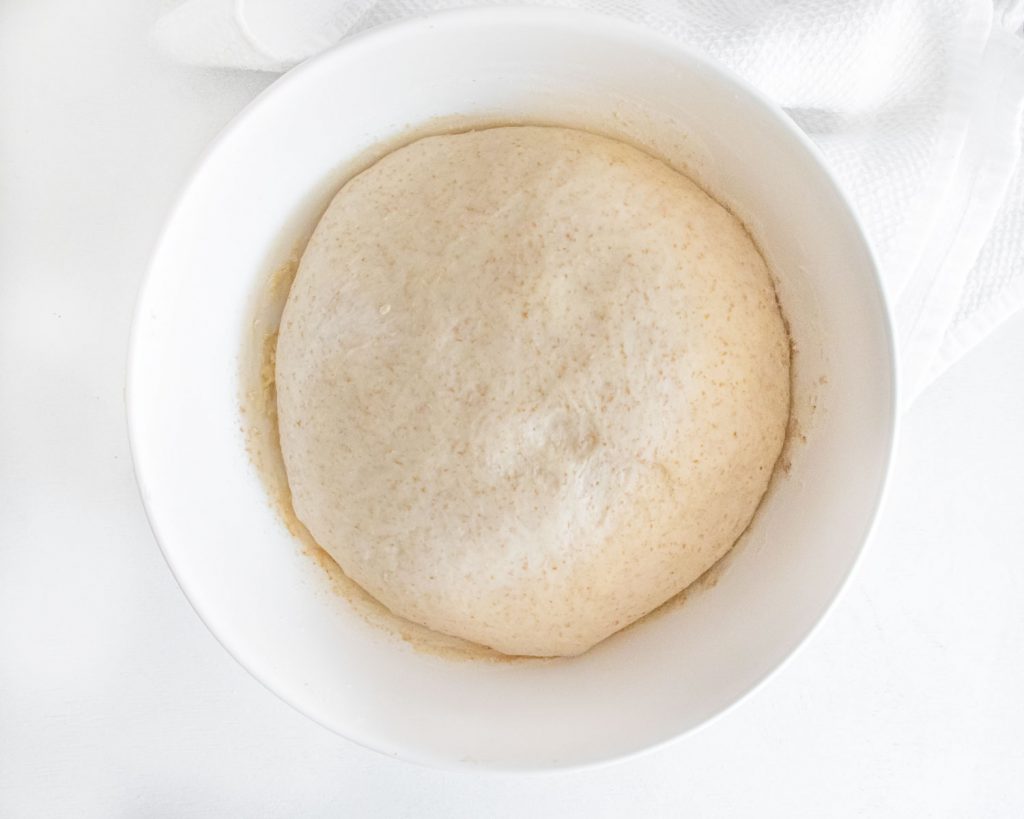 Place the dough into a lightly oiled bowl and set it somewhere warm for 60-90 minutes, or until it has doubled in size.
Step six: shape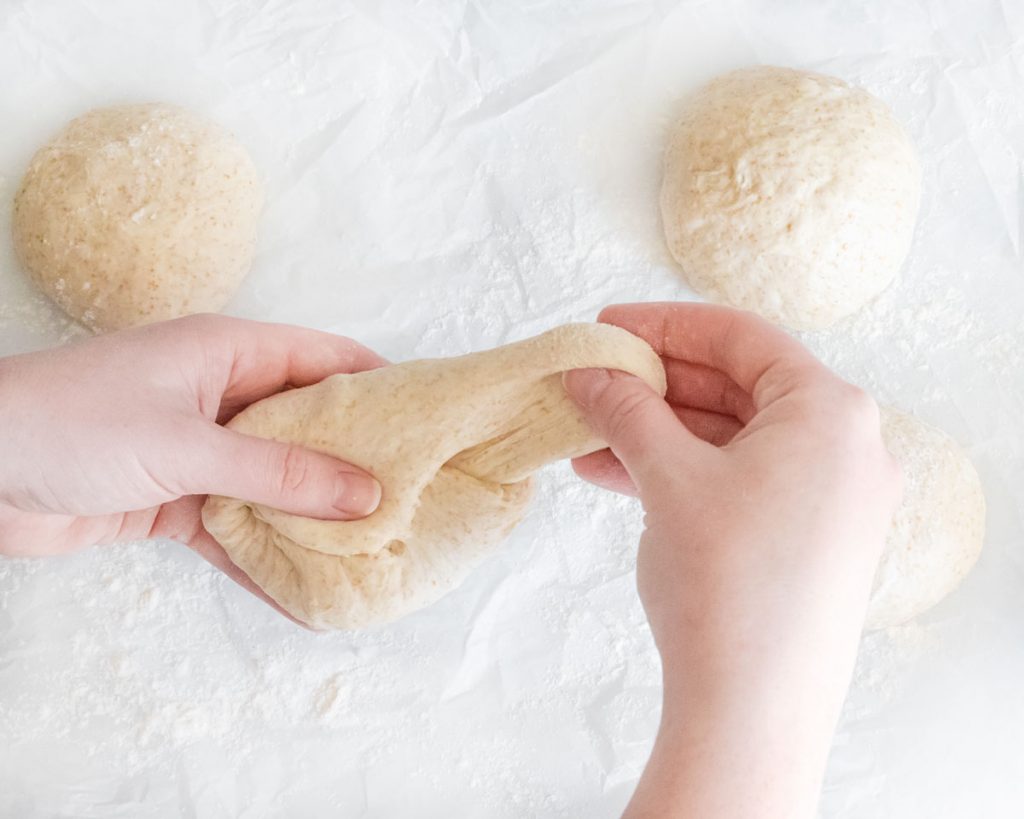 Start by dividing the dough into four equal pieces. Next, pull the dough from the edges of the ball in toward the center. Pull only until you feel tension– you don't want to rip the dough!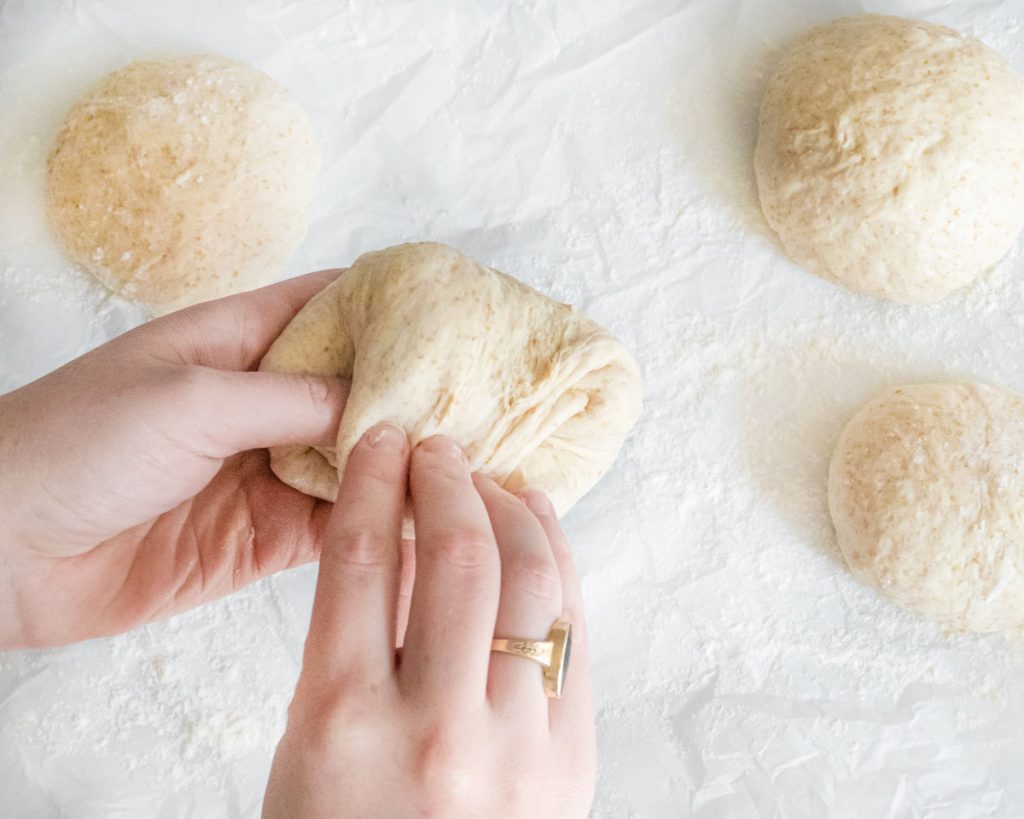 Once the balls are formed (make sure the bottom seam is tightly closed), push your thumbs through the center create a small hole in the center of the bagels.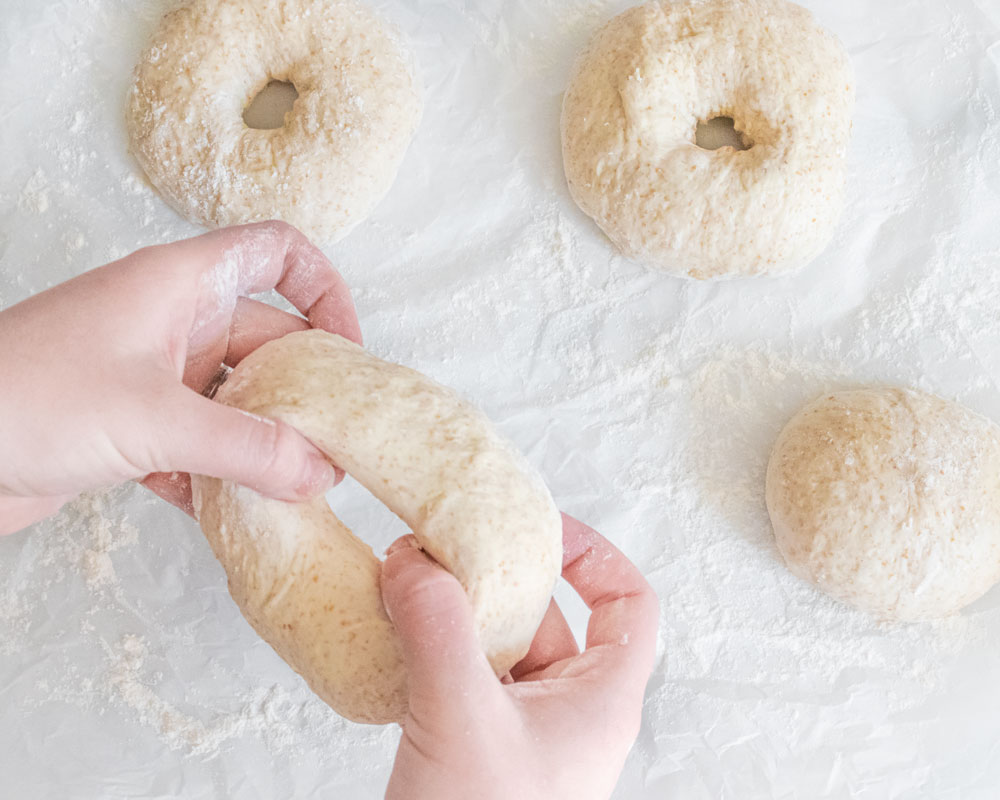 Step seven: Boil and Bake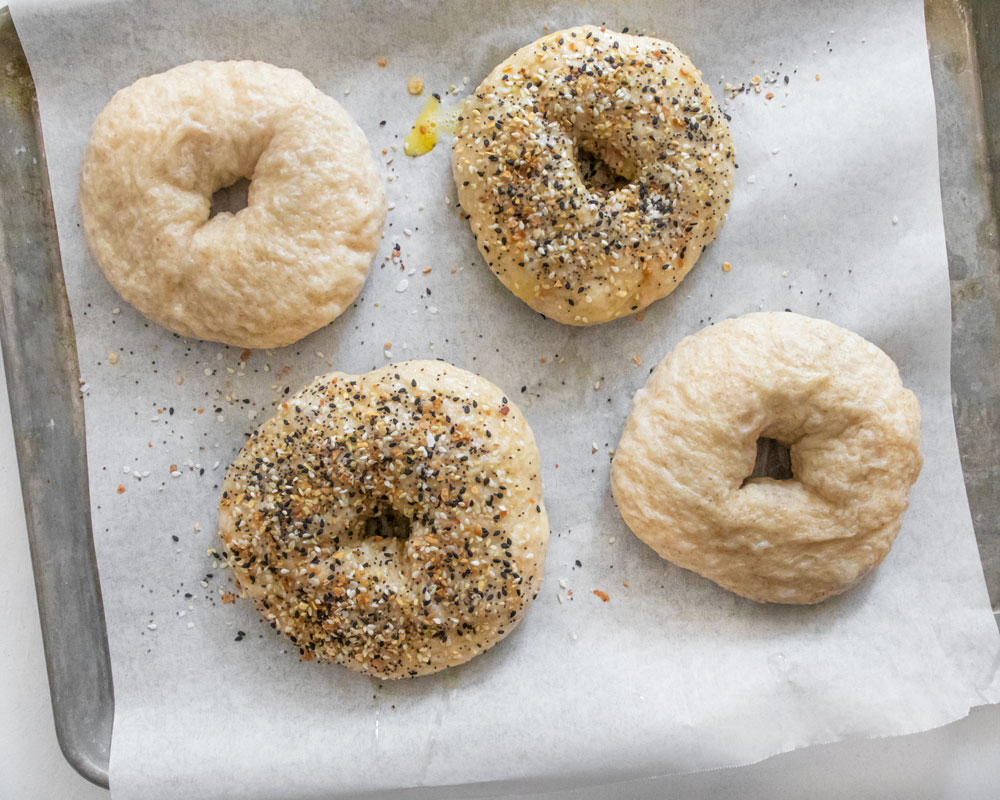 Bring a large pot of water to a boil. Stir in the honey. Cook the bagels one at a time for 1 minute per side. Remove the bagels to a sheet pan lined with parchment paper. Brush the bagels with an egg wash and top with your desired seasoning. Bake at 425F for 20-25 minutes.
What's Good on a Bagel?
Breakfast & Brunch
My All-time Favorite: Everything Bagel — veggie cream cheese and avocado
Salt Bagel — plain cream cheese, lox, and capers (tomato and red onion are traditionally served with this kind of bagel but I feel like they overpower the sandwich so I leave them off)
Plain Bagel — melted brie, fresh blueberries, mint, and balsamic glaze
Cheddar Bagel — bacon, poached egg, hollandaise sauce (like Eggs Benedict, but better)
Lunch & Dinner
Bagel Pizza — any bagel you like, marinara, melted mozzarella, and your favorite pizza toppings (try spinach and pineapple together, trust me!)
Salt or Cheddar Bagel — melted cheddar cheese
Cheddar bagel — thick sliced turkey, stone ground mustard, granny smith apple
Plain Bagel — bacon, lettuce, tomato
Everything Bagel — hamburger, melted swiss cheese, carmelized onions and mushrooms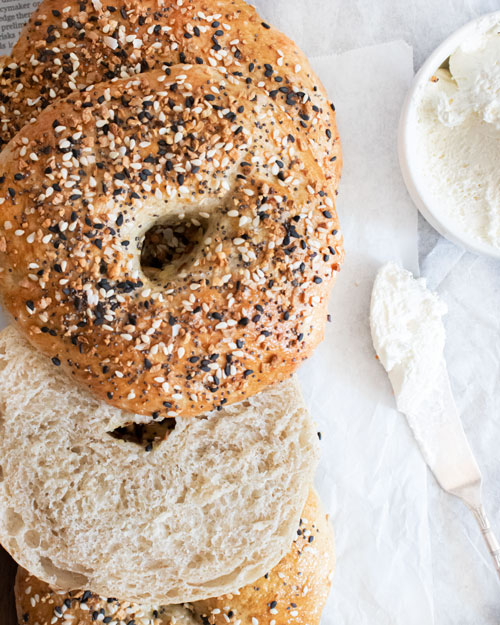 The Recipe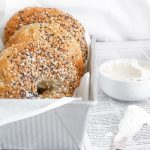 Print Recipe
Homemade Bagels
If you're looking for the perfect bagel recipe, here it is! These bagels are crisp on the outside while staying light and fluffy on the inside. And the best part? You can customize them to be any flavor you like!
Ingredients
3/4

cup

warm water

1 1/2

tsp

active dry yeast*

1/2

cup

sourdough discard

optional

2

tsp

brown sugar

2

cups

bread flour

1

tsp

kosher salt

1

egg

1/4

cup

honey

water
Instructions
Make the Dough
Combine the warm water (3/4 cup at 105-115°F), brown sugar (2 tsp), yeast (1/5 tsp), and sourdough discard (if using) in the bowl a large bowl (or the bowl of a stannd mixer fitted with the dough hook). Let sit until the yeast becomes foamy on top– about 5 minutes.

Add the kosher salt (1 tsp) and bread flour (2 cups) and mix until the dough forms a shaggy ball. My favorite tool for this is a dough whisk but a wooden spoon or stand mixer works perfectly as well.

Turn the dough onto a lightly floured surface and knead gently until the dough is smooth and no longer sticky– about 5 minutes.

Place the dough in a well-oiled bowl and cover with a kitchen towel. Place in a warm spot and let rise for 90 minutes, or until doubled in size. If you are making this dough during the winter, place the bowl in your oven and turn on only the light! This will make an environment warm enough to activate the yeast.

When the dough has doubled in size, punch it down and turn it out onto your work surface. Divide the dough into 4 equal pieces and roll each piece into a ball.

Gently punch your thumb through the center of each ball to create a hole. Work the bagels until you get the size and shape you like. I prefer thick bagels so I punch my thumb through and then flaten them with my hand slighly.
Cook the Bagels
Preheat your oven to 425° F.

Bring a large pot of water to a boil and whisk in the honey (1/4 cup).

Boil the bagels (one at a time) for one minute on each side.

After boiling, place the bagels on a baking sheet lined with parchement paper. At this point you can use your hands to reshape the bagels into circles if they became mishapen during boiling. The right is before boiling while the bagel on the left is after boiling.

Brush the bagels with an egg wash (1 egg beaten with 1 tsp of water) and top with your favorite bagel toppings.

Bake for 25-30 minutes or until the bagels are golden brown.

Enjoy immediately. Bagels are best eaten on the day they are made but you can store them up to a day in a ziploc bag. Just make sure to let them cool completely before placing them in the bag or they will steam and become soggy.
Notes
*If using Instant (or Fast Acting) Yeast rather than Active-Dry Yeast, skip step one. Instead, combine all the ingredients at once and mix until a shaggy dough forms. Then, continue as listed. 
Nutrition
Calories:
345
kcal
|
Carbohydrates:
71
g
|
Protein:
10
g
|
Fat:
2
g
|
Saturated Fat:
1
g
|
Cholesterol:
41
mg
|
Sodium:
603
mg
|
Potassium:
103
mg
|
Fiber:
2
g
|
Sugar:
19
g
|
Vitamin A:
59
IU
|
Calcium:
16
mg
|
Iron:
1
mg
Recipe Background
When my husband and I lived in South Carolina, we had the most amazing bagel shop very close by. When we moved to Washington, DC we searched high and low and every bagel we tried was the same: small, hard as a rock, and tasted like cardboard. So, I set out to create the perfect bagel recipe at home. After all, how long can one go without a great bagel? Surely we would be going into withdrawals soon.
After lots of testing, I finally found the perfect recipe! These bagels are the perfect size, texture, and flavor! I will say that I really really messed up the first time I made this recipe. Before I boiled the bagels, I thought they looked too small so instead of dividing the recipe into four, I only divided it into two. Well, I ended up with bagels the size of my head that were burned to a crisp on the outside and still raw on the inside. Learn from my mistakes… divide the dough into four!
Now that I've got the hang of making bagels, they're incredibly easy and so worth the time and effort! Go ahead and give bagel making a try– you'll never go back to store bought bagels again!