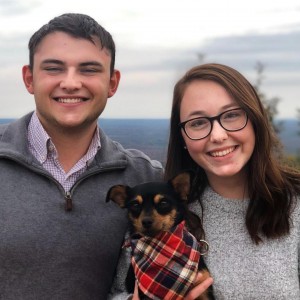 Hi! I'm Sydney!
I graduated from Meredith College in 2019 with a degree in Biology (with minors in Chemistry and Chemical Physics). Shortly after graduation I married my best friend, Samuel, and we moved to Washington, DC! We adopted Rocky as soon as we got back from our honeymoon and we've been living happily ever after ever since! 
I started About Dinner Thyme (previously known as The Home Cook Cookbook) as a way to keep track of my favorite recipes and (hopefully!) share some of the knowledge I've acquired along the way. My goal is to create simple detailed recipes that produce impressive and delicious meals!
Frequently Asked Questions (about me!)
Q: Did you go to culinary school?
A: Nope! I've been "seriously" cooking for almost ten years and I've learned a lot through trial and error. Thankfully my amazing mentor has taught a lot about both cooking and photography (check out Jen's blog Savory Simple)!
Q: What is your style of cooking?
A: My dishes have a lot of French and Italian influence– but with a Southern twist! I'm always looking for ways to reinvent a classic; it keeps your guests intrigued and your palate excited! A lot of my recipes are adapted from my favorite chef, Ina Garten (aka The Barefoot Contessa)!
Q: What is your favorite dish to make?
A: That really depends. I love to make pasta– its so versatile and it's very hard to mess up. But among my friends and family, I'm known most for my French Macarons!
Q: What's the worst thing you've ever made?
A: Oh my goodness. When I was first leaning to cook, I tried to make steak and vegetable kabobs. At the time I didn't realize that they all had different cooking times so I ended up with overcooked steak (it tasted like shoe leather) and completely raw onions and peppers. Learn from my mistake… put them all on different skewers. Oops!
Q: What's the one ingredient you can't live without?
A: Salt. I used to be terrified of over-salting my food and everything I made tasted horribly bland. When I finally learned how to properly salt my food, it started tasting 100 times better. Trust me, your food likely needs more salt than you think it does!