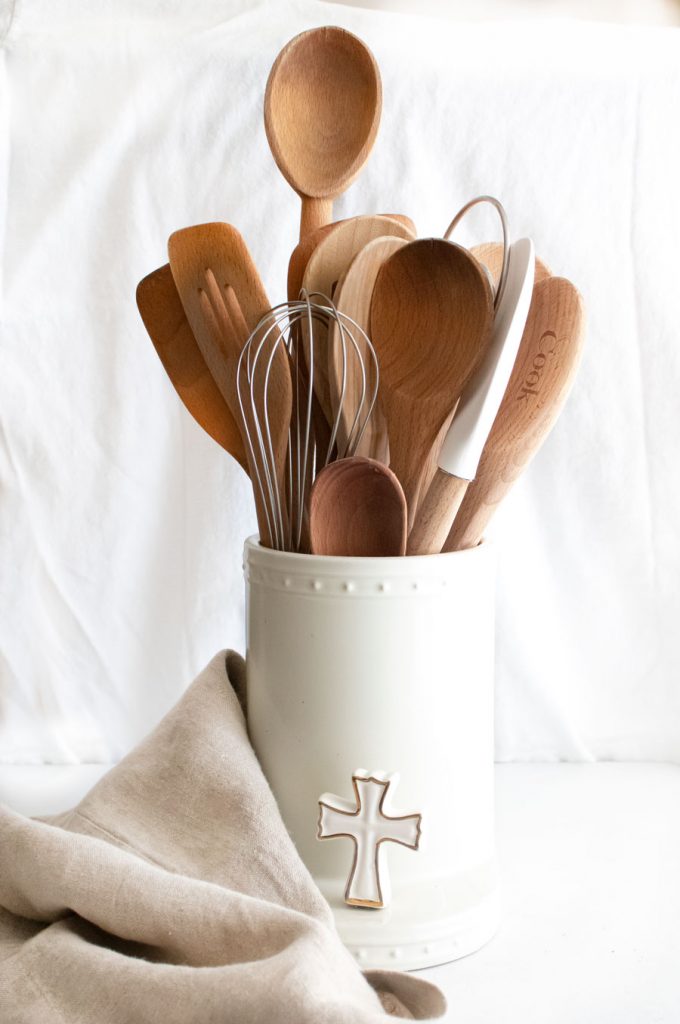 When I was first learning to cook, I think I was more intimidated by the tools I thought I needed than the actual recipes themselves. I would walk into kitchen supply stores in awe of the possibilities… the only problem was I didn't actually know what to do with half of them! Don't worry, I promise it gets easier and soon using basic kitchen tools will become second nature.
Tools for the Cook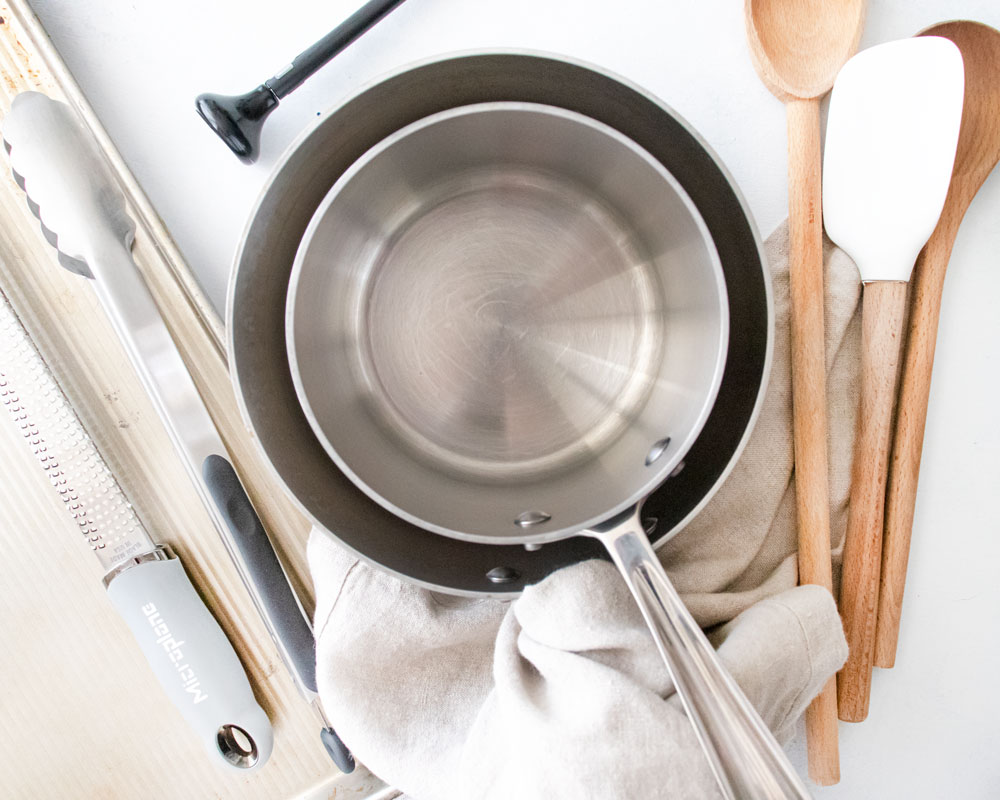 Pans: Sauce & Saute. You don't need a whole array of pots and pans to become a great cook. In fact, I learned the hard way that it's better to have fewer higher-quality pans than it is to have more, lower-quality pans. You'll only need two pans: a sauce pot (which has high sides for cooking pasta, etc.) and a saute pan which has a wider bottom surface area and shorter sides (for sauteing, pan frying, etc.). I have the All Clad d3 set and I absolutely love it! I upgraded to All Clad from a Rachel Ray nonstick set… and while it was fine in the beginning, cheap nonstick pans are definitely going to limit your ability as a chef.
Sheet Pan: Sheet pans are large, flat pans that are most often used in the oven! I recommend getting one with sides so you'll never have anything run off the edges. My preference is USA pan because they're easy to clean and they don't warp under high heat. I keep both half sheet and quarter sheet pans (but no full size sheet pans– they're too large for the home cook).
Tongs: If you have nonstick pans, you should have tongs with silicone ends so you don't scratch the non stick off your pans. If you have stainless steel pans (which I recommend), go ahead and grab a pair of tongs that have a metal end. Metal tongs are easier to maneuver (and you can't burn the silicone end off… speaking from experience here)!
Wooden Spoon: I own one plastic spoon… and I never use it! It seems to absorb flavors and when switching between sweet and savory… that's not great. So, I use wooden spoons almost exclusively! This is one tool that you'll want to invest in. If you buy a cheap wooden spoon is may splinter after a few uses and there's nothing worse than wood chips in your perfect tomato sauce!
Spatula(s): There are two very different kitchen tools that are both called spatulas. One is flat and used to flip things like pancakes and fish. The other is often silicone and used to stir things like cookies and brownies. You'll need one of each– see below for pictures.
Instant Read Thermometer: The best cooks can tell when meat is the right temperature just by feeling it. If that's not you (and don't worry, that's not me either), you're going to want an instant read thermometer. There's nothing worse than splurging on a nice cut of meat only to find that you've over cooked it.
Microplane zester: A microplane zester is a really really small grater. It's used for things like lemon zest, parmesan cheese, and fresh nutmeg. Take it from someone who used to mince lemon zest before I got a microplane… just save yourself the time.
Knives: chef, bread, and filet. Did you know most chef's say the best way to prevent cuts in the kitchen is a sharp knife? A sharp knife will cut through food more easily and thus, require less pressure from you. With a dull knife you'll have to push harder and it's more likely that your hand will slip. My favorite brand of knives is Wusthof, but Cutco is a close second.
Tools for the Baker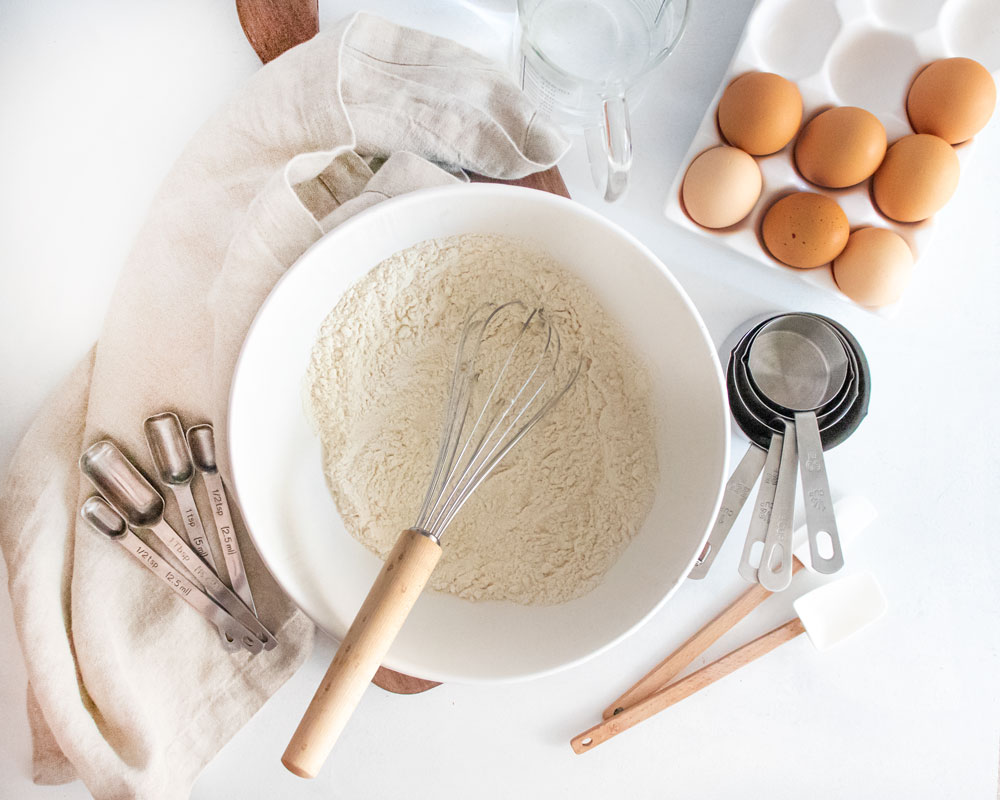 Whisk: There are a million different kinds of whisks that all do versions of the same thing. Go for a standard size (about 4-5 inches) with a comfortable handle. Chances are, if you're whisking something you're going to be doing it for at least a few minutes and you'll want something comfortable. By the way… you'll need a whisk for everything from brownies to breads to salad dressings!
Mixing Bowl: If you plan on making any baked good, you're going to need a mixing bowl. The Pyrex 4-quart bowl is a standard, good quality bowl that's large enough for most baking projects. If you're lucky enough to have a stand mixer that has a mixing bowl attached, you can skip this one.
Measuring cups & spoons: Cooking is fluid, meaning you can add a little of this and a little of that and it will usually be okay. Baking is not fluid– baking is chemistry. You need to measure ingredients correctly if you want the final product to turn out perfectly! Once you become a master you'll likely start measuring in weight rather than volume but when you're starting out, measuring cups work just fine.