Jump to Recipe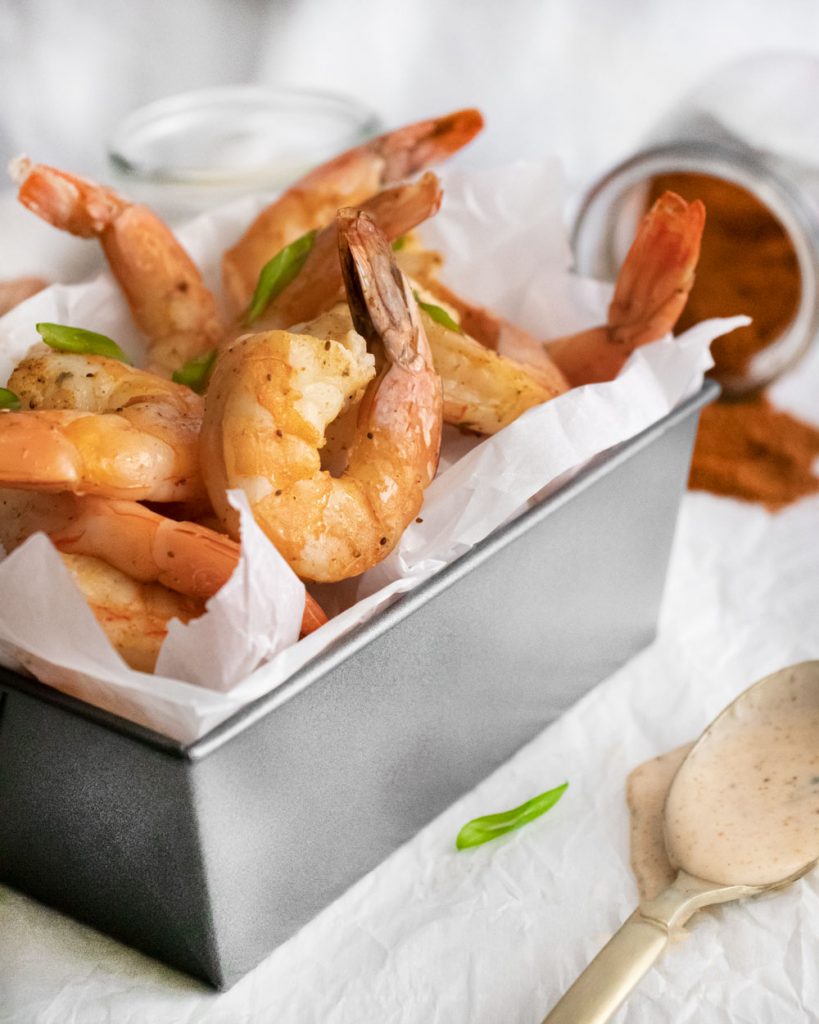 Nothing says summer like roasted shrimp; it's one of my favorite quick and easy appetizers! But this time I'm taking it up a notch with this easy lemon aioli. Juicy shrimp pair perfectly with fresh lemon, Old Bay, and green onions. You may want to make extra, this one is going to be a hit! This post is sponsored by Pescadeli.
What Should Raw Shrimp Look & Smell Like?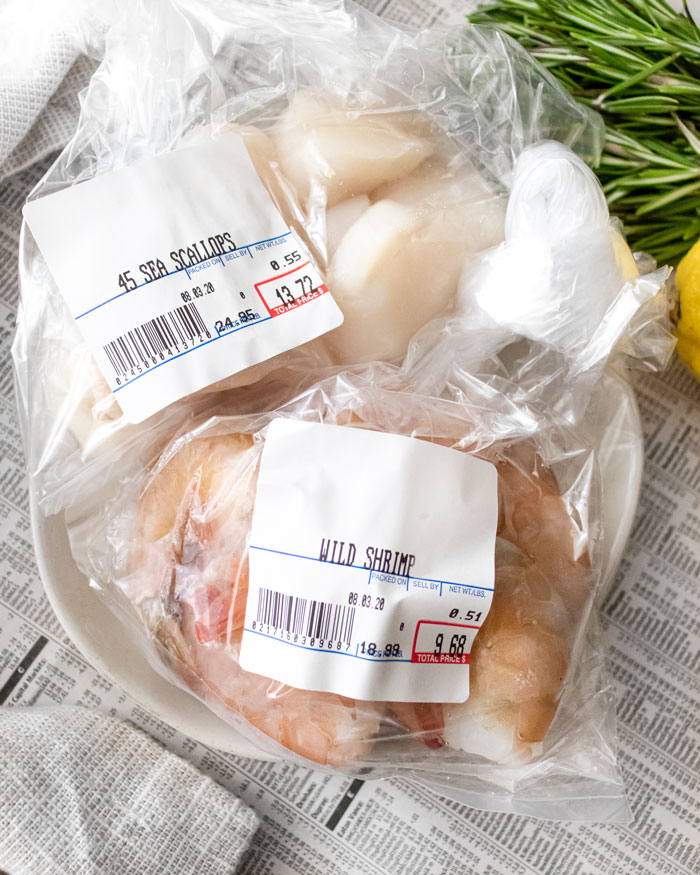 Raw shrimp should be plump, translucent, and often grey in color. They should be soft but not soggy. Additionally, they should smell brine-y, like the ocean but shouldn't smell "fishy" or rotten. Don't be afraid to ask your fishmonger where the shrimp are from, when they arrived, and if they've been previously frozen.
How are Shrimp Sized?
The sizes "small, medium, large, etc." can vary from one place to another so they aren't a reliable way to size shrimp. I always buy based on the "count". The shrimp in this photo are "16-20 count" which means that there will be 16-20 shrimp per pound.
How to Peel & Devein Shrimp
Step One: Prepare the Shrimp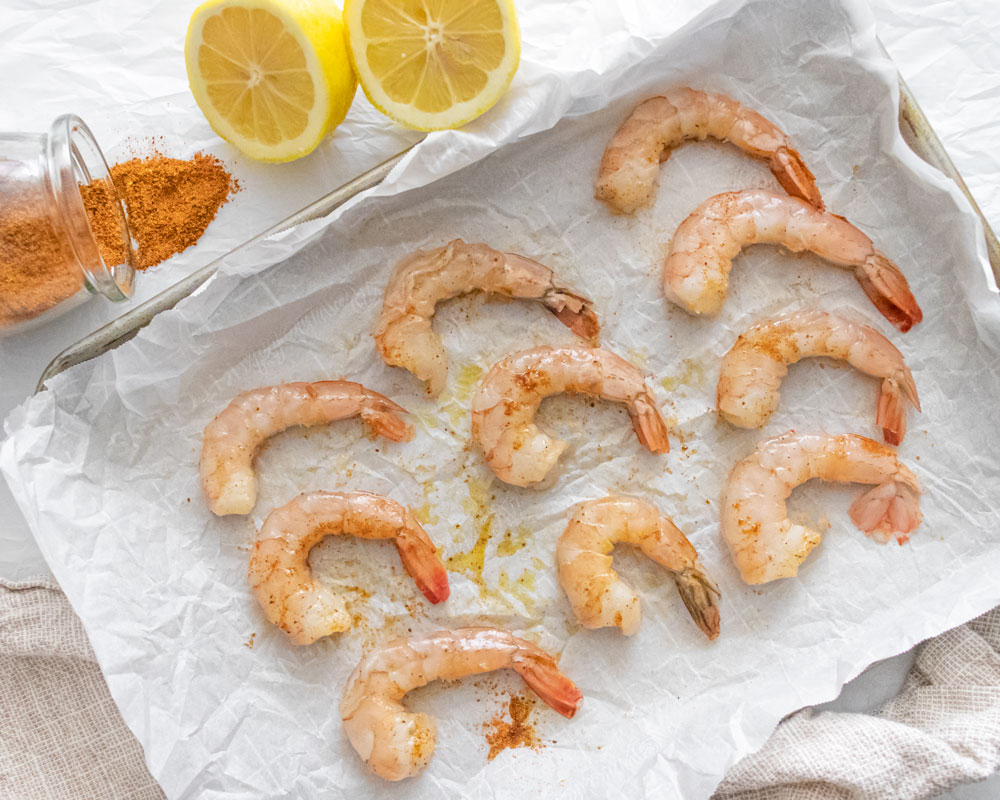 If you can find shrimp that is already peeled and deveined, that makes your job even easier! If not, begin by peeling and deveining all of your shrimp. Next, place the shrimp on a baking sheet and sprinkle over olive oil and Old Bay seafood seasoning.
Step Two: Roast the Shrimp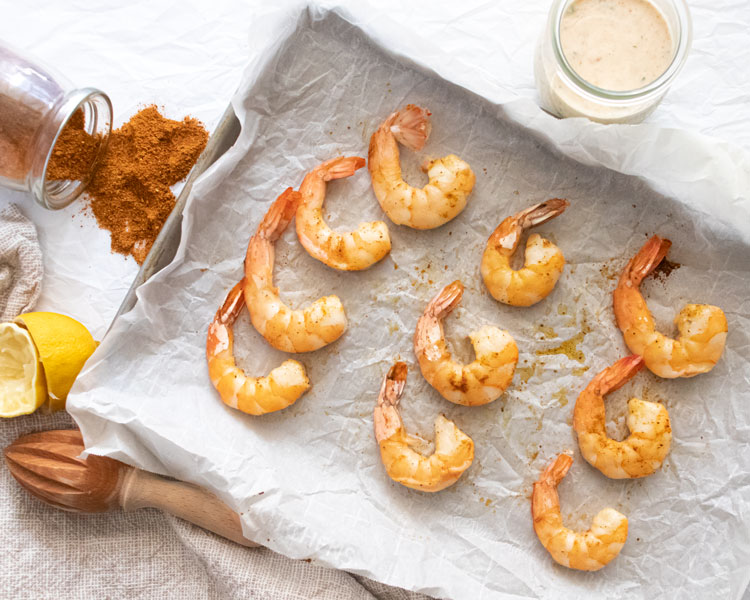 Roast the shrimp at 400 degrees F for 8-10 minutes, or until the shrimp are opaque yet still soft. Fully cooked shrimp will take on a "c" shape. Shrimp that are undercooked will be translucent and flimsy while shrimp that are overcooked will be opaque and take on an "o" shape.
Step Three: Make the Aioli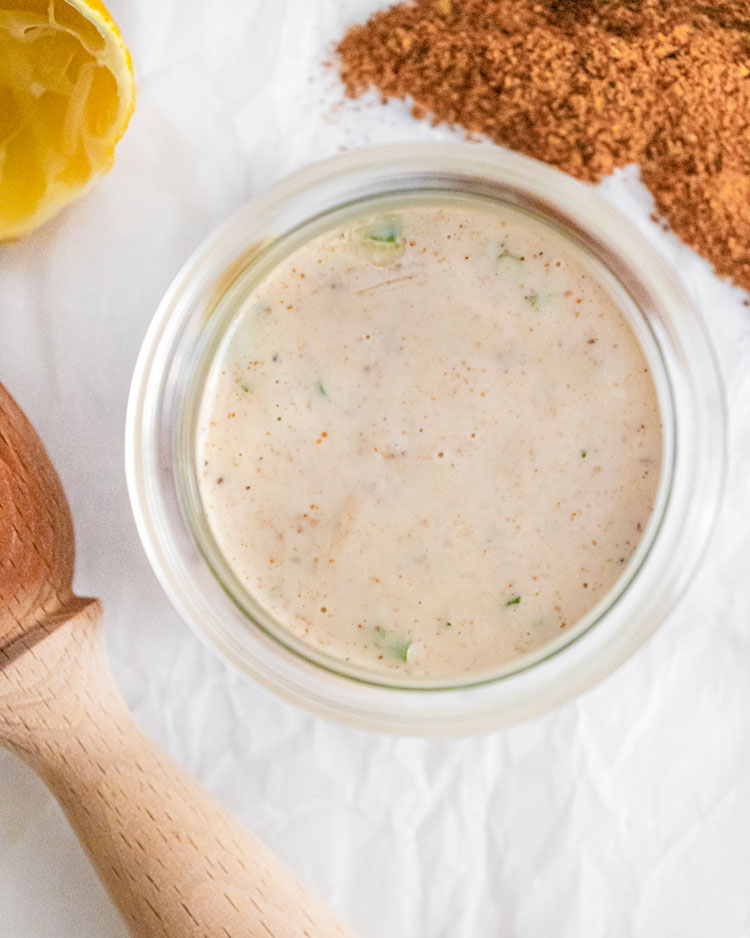 This is called an "easy lemon aioli" for a reason– it's easy! If you'd like to make homemade mayonnaise, you go for it! But if not, this shortcut recipe is still delicious. Just combine all of the ingredients in a small bowl and refrigerate until ready to use.
Other Seafood Recipes You'll Love
The Recipe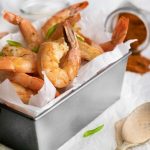 Print Recipe
Roasted Shrimp with Easy Lemon Aioli
Ingredients
For the Shrimp
1/2

lb

shrimp

peeled and deveined

1

tbsp

olive oil

2

tsp

Old Bay

divided
For the Aioli
1/3

cup

mayonnaise

1/2

tsp

Dijon Mustard

1

tsp

parsley

chopped

1

tsp

chives

chopped

1

small garlic clove

minced or grated

1/4

cup

freshly squeezed lemon juice
Instructions
Roast the Shrimp
Preheat the oven to 400F. Line a sheet pan with parchment paper.

Drizzle the shrimp with olive oil and 1 tsp of Old Bay. Toss to combine. Roast for 8-10 minutes (for 16-20 count), or until the shrimp are opaque and "c" shaped.

Top the shrimp with a squeeze of fresh lemon juice
Make the Aioli
Combine the remaining ingredients in a small bowl (including the remaining 1 tsp Old Bay). Refrigerate until ready to use.
Nutrition
Calories:
280
kcal
|
Carbohydrates:
7
g
|
Protein:
24
g
|
Fat:
17
g
|
Saturated Fat:
3
g
|
Cholesterol:
292
mg
|
Sodium:
1175
mg
|
Potassium:
122
mg
|
Fiber:
1
g
|
Sugar:
2
g
|
Vitamin A:
79
IU
|
Vitamin C:
17
mg
|
Calcium:
184
mg
|
Iron:
3
mg
Let's Talk About Pescadeli
Pescadeli is an amazing seafood market in Bethesda, MD! Growing up in South Carolina, we always had an abundance of fresh, local caught seafood at our fingertips but when I moved to Washington, DC that wasn't the case– or so I thought. Before I discovered Pescadeli, we relied on our grocery store for seafood and I have to say… it wasn't great. Eventually seafood fell out of our diet and our new year's resolution for 2020 was to eat more seafood. So naturally I started looking into seafood markets near me and I hit the jackpot with Pescadeli! After being a loyal customer for a few months, I reached out to their team about doing some restaurant photography (check out my portfolio from their shoot here). Now I'm so exited to share our next collaboration: a Seafood Series! This week we'll be highlighting some of the best seafood Pescadeli has to offer! Are you hungry? I know I am!