Jump to Recipe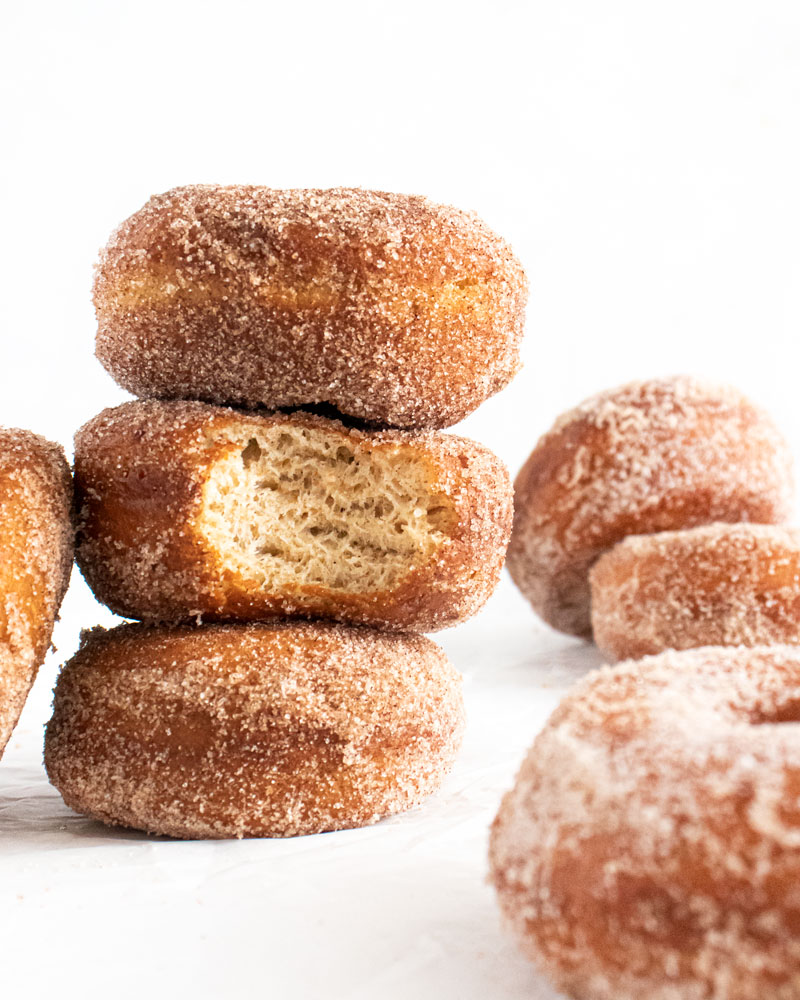 These apple cider sourdough doughnuts are a delicious fall treat! They're soft and fluffy on the inside with a nice crunch on the outside– perfectly spiced and with just a hint of apple cider. I'm sure you're going to love them!
Frequently Asked Questions  
Q: Can I use Instant Yeast instead of Active Dry? 
A: Of course! If using instant yeast, you can skip step 1 and combine all of the wet ingredients (milk, starter, yeast, eggs, butter, and vanilla) and then add in the dry ingredients– no need to proof the yeast. 
Q: What's a dough whisk? 
A: A dough whisk, aka: a Danish dough hook or a dough whisk, is a tool used for mixing stiff doughs. It typically has two interlocking circles and makes bread-making so much easier! If you work with doughs a lot, I highly recommend getting one. They're typically hard to find in stores but readily available on the internet. 
Q: Why does the dough have to rise twice? 
A: The first bulk rise is to aerate the dough as a whole. Next, we shape the dough which deflates it and tightens the gluten structure. The second rise allows the dough time to build up the air we deflated during shaping but it also smooths out the dough so you get beautiful, fluffy doughnuts! 
Q: Do I have to fry the doughnuts? Can I bake them? 
A: When I tried baking these doughnuts, they became more dry and dense so I opt for frying. 
Q: I don't have a sourdough starter. What can I do? 
A: If you don't have a sourdough starter you can leave it out of this recipe and reduce the flour by 1/4 cup (so 2 cups of flour rather than 2 + 1/4 cups). This recipe will work just as well without the discard. If you'd like to make a starter, check out my Shortcut Sourdough Starter post. 
Q: What is "100% hydration discard"? 
A: 100% hydration refers to the ratio of water to flour in your starter. In this case, 100% means the starter is composed of equal parts flour and water. If you work with a starter that is not 100% hydration, listen to the dough as you knead. Higher hydrations (>100%) may require a bit more flour while lower hydrations (<100%) will require a bit more apple cider. Discard refers to the state of the starter– in this case discard means unfed. I keep a jar of discard in the fridge and pull it out for recipes like this.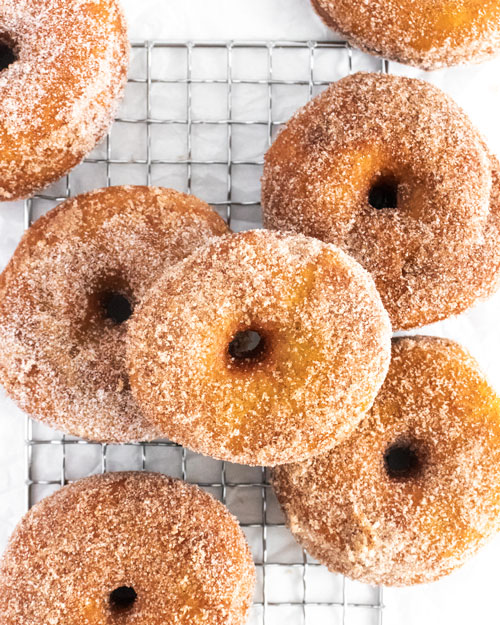 How to Make Apple Cider Doughnuts
Step one: Combine the wet ingredients
If you're using active-dry yeast, you'll need to bloom the yeast in warm apple cider. So, first combine the warm cider, sourdough discard, yeast, and sugar. The sugar helps give the yeast a jump start. Once the yeast is foamy on top, add in the remaining wet ingredients– melted butter, egg, and vanilla.
Step two: add the dry ingredients
Now it's time to add the flour and spices– in the recipe below, I list all the traditional spices used to make that signature apple-spice flavor but you can also substitute an apple pie spice mix if that's what you have on hand.
Step three: Knead and Rest
This is a soft dough so it doesn't need to be kneaded very hard or for very long. A minute or two of soft kneading should result in a smooth elastic dough. Then, place it in a warm place to rise until doubled in size.
Step four: Cut, shape, and rest again
Now is the time to cut the doughnuts into any shape you like– I usually opt for a traditional doughnut but I've also made doughnut holes and doughnuts without holes (perfect for stuffing!). Once the doughnuts are cut, they need to rise again– this will make a very light and fluffy doughnut.
Step five: Fry & Enjoy
I always opt for fried doughnuts because they have a wonderful crunch on the outside that is hard to recreate in the oven. These doughnuts don't take long to fry but be careful– the oil is HOT. If you aren't comfortable lowering the doughnuts into the oil with your bare hands, place them in a spider strainer and then lower them in. Never drop anything into hot oil– it will splash!
Other Recipes You May Enjoy
The Recipe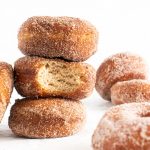 Print Recipe
Apple Cider Sourdough Doughnuts
These apple cider sourdough doughnuts are a delicious fall treat! They're soft and fluffy on the inside with a nice crunch on the outside– perfectly spiced and with just a hint of apple cider. I'm sure you're going to love them!
Servings:
14
2″ doughnuts
Ingredients
½

cup

apple cider

2

tbsp

+ ½ cup sugar

separated

1

tsp

active dry yeast

1/2

cup

100% hydration sourdough discard

3

tbsp

butter

melted

1

egg

½

tsp

vanilla extract

2+ 1/4

cups

all-purpose flour

2

tsp

ground cinnamon*

divided

1/8

tsp

ground allspice *

1/4

tsp

ground nutmeg*

1/8

tsp

ground cardamom*

½

tsp

kosher salt
Instructions
Heat the apple cider until warm (100-105°F). Add 2 tbsp of sugar, the yeast, and the sourdough discard. Stir to combine and then allow it to rest for 5 minutes.

Once the yeast has become foamy on top, add the melted butter, eggs, and vanilla and whisk to combine.

Next, add the four, nutmeg, allspice, cardamom, salt, and 1 tsp of cinnamon. Stir with a dough whisk or wooden spoon until a shaggy dough forms. The dough will seem wet but it will come together when you start kneading.

Transfer the dough to a lightly floured surface and knead until the dough becomes smooth– about 2 minutes.

Oil the bowl lightly and place the dough back into the bowl. Allow it to rise for one hour, or until doubled in size.

After an hour, turn the dough onto a lightly floured surface again and roll it out to ½" thick. Using a round cookie cutter, cut the dough into your desired doughnut size. I use a 2" round cookie cutter to cut out the doughnut and the larger end of a piping tip to cut out the center hole.

Place the doughnuts on a baking sheet lined with parchment paper and cover them with a clean dish towel. Let them rise for another 45 minutes, or until doubled in size again.

Heat a heavy-bottomed pan or cast iron dutch oven with about 2" of oil. When the oil reaches 350°F, cook the doughnuts for about 45 seconds per side. The exact cook time will depend on the size of your doughnuts but they are finished when they are a deep golden brown on all sides. Make sure not to crowd the pan– the doughnuts need plenty of room to move around.

Combine the remaining ½ cup sugar and 1 tsp cinnamon in a large bowl. Remove the doughnuts from the oil (make sure to let any excess oil drip off) and toss them in the cinnamon-sugar mixture. Enjoy!
Notes
*You can substitute the spices (cinnamon, cardamom, allspice, and nutmeg) for 1.5 tsp of apple pie spice in the doughnuts. 
Nutrition
Serving:
1
doughnut
|
Calories:
120
kcal
|
Carbohydrates:
20
g
|
Protein:
3
g
|
Fat:
3
g
|
Saturated Fat:
1
g
|
Cholesterol:
12
mg
|
Sodium:
117
mg
|
Potassium:
37
mg
|
Fiber:
1
g
|
Sugar:
3
g
|
Vitamin A:
124
IU
|
Vitamin C:
1
mg
|
Calcium:
9
mg
|
Iron:
1
mg