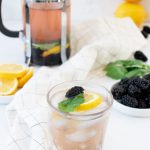 Print Recipe
Blackberry Basil Sangria (in a French Press)
Nothing beats a crisp, refreshing sangria on a hot day, but who wants to wait hours for the flavors to develop? This delicious French Press sangria is ready to drink in five minutes or less and packed with summer flavors! Fresh blackberries pair perfectly with earthy basil and tart lemon-- all topped off with a bright white wine.
Using a muddler or wooden spoon, smash together the fresh blackberries, sliced lemon, and basil leaves for 30 seconds.

Add the white wine and limoncello. Close the french press and gently pump the press until the sangria turns from white to light pink (about 15 hard presses).

Serve chilled, topped with a splash of club soda.